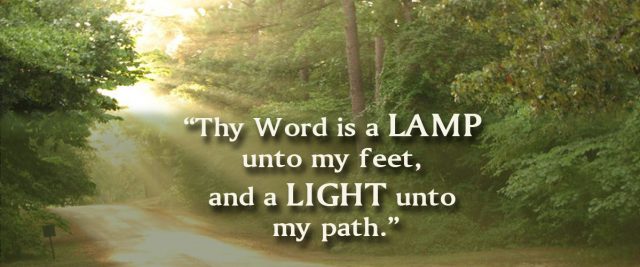 Thy Word is a lamp unto my feet, and a light unto my path (Psalm 119:105).
As believers in Christ, we're enjoined to grow unto maturity in the things of God (Ephesians 4:13). This admonition is not just for some class of Christians, such as ministers of the gospel, but for every child of God. A clear evidence of spiritual maturity is the ability to discern and walk in God's perfect will for your life. God's Word is His will expressed. And as the Psalmist describes in our opening scripture, the Word is a lamp; it's a light which gives direction and guidance. So, you need to know God's Word, as that's the only way you can understand and walk in His perfect will for you.
Often times, God's will is different from what natural signs tell you, and what your feelings or those around you may tell you. The things of God don't appeal to the senses, for they are spiritually discerned: "But the natural man receiveth not the things of the Spirit of God: for they are foolishness unto him: neither can he know them, because they are spiritually discerned" (1 Corinthians 2:14).
This is why it's so vital that you know the Word, and are acquainted with God's Spirit through fellowship. Galatians 5:16 says "This I say then, Walk in the Spirit, and ye shall not fulfill the lust of the flesh." Walking in the Spirit means walking in the light of God's Word, being able to discern and walk in His perfect will, notwithstanding what your senses tell you.
Praying fervently and consistently in tongues is equally very important in discerning walking in God's perfect will, as it keeps your spirit attuned and sensitive to the Holy Spirit. As Pastor Chris says, prayer times are moments of heavenly glory and spiritual ecstasy as your spirit is refreshed and your sensitivity to the Spirit is enhanced. As you fellowship with the Lord through prayer it becomes easier for you to receive direction and guidance in your spirit.
Please follow and like us: