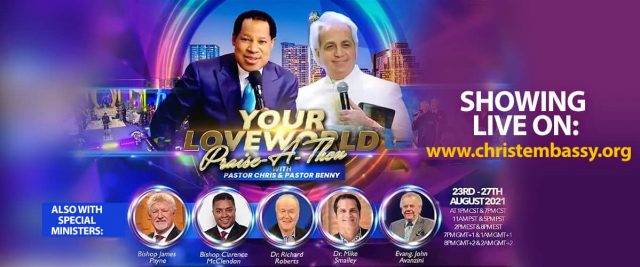 5-day  live broadcast on all LoveWorld Networks to usher in new season of blessings by the Word.
It is yet another season of the soul-uplifting Your LoveWorld Praise-A-thon with Pastor Chris and Pastor Benny Hinn. The timely program in the Month of Praise is slated to take airwaves from Monday, August 23rd to Friday, August 27th. A teeming global audience is expected to participate live via all LoveWorld Networks and other internet platforms.
Previous episodes of this momentous program evinced the awesome manifestation of the power of God. As always, the President of LoveWorld Inc., Reverend (Dr.) Chris Oyakhilome and Pastor Benny Hinn would be joined by seasoned ministers of the Gospel including Bishop Clarence McClendon, Dr. Mike Smalley, Evang. John Avanzini, Dr. Richard Roberts, and Bishop James Payne ministering God's timely Word to God's people during the different sessions of the broadcast. "This program is of continuous praise, thanksgiving to God and acknowledging the power and grace in the Gospel," Pastor Chris emphasized when he officially announced the program. He admonished everyone to partake in this historic praise rendezvous. Undoubtedly, the sounds of the instruments and the voices of the saints would altogether conjugate as sweet-smelling incense of praise to God Almighty. "This is time for prayer and dedication," Pastor Benny Hinn also remarked as he propped the global audience to participate in the special time of fellowship with the Word and the Spirit.
Spread the news, clear your schedule, and plan to be a part of this life-changing program. Tune in on this platform, any LoveWorld TV station at 7 pm GMT+1 and 1 am GMT+1 each day to participate in all the sessions of the live broadcast.
Please follow and like us: