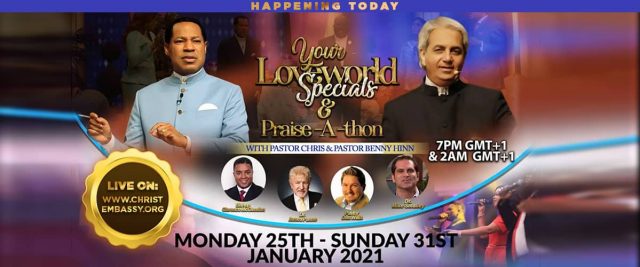 PRAYER GUIDE FOR PRAISE-A-THON AND YOUR LOVEWORLD SPECIALS WITH PASTOR CHRIS AND PASTOR BENNY FRIDAY 22ND JANUARY 2021
PRAYER FOR MASSIVE HARVEST OF SOULS, HEALINGS AND MIRACLES AS A RESULT OF THE PRAISE-A-THON AND YOUR LOVEWORLD SPECIALS
Philippians 2:9-11 Wherefore God also hath highly exalted him, and given him a name which is above every name: That at the name of Jesus every knee should bow, of things in heaven, and things in earth, and things under the earth; And that every tongue should confess that Jesus Christ is Lord, to the glory of God the Father. Matthew 4:24 And his fame went throughout all Syria: and they brought unto him all sick people that were taken with divers diseases and torments, and those which were possessed with devils, and those which were lunatick, and those that had the palsy; and he healed them.
PRAYER POINT
Pray and thank the Lord for a massive harvest of souls globally through the Praise-athon and Your Loveworld Specials. Declare that as Word comes forth through the various segments there will be a deep stirring in the hearts of the unsaved, causing millions of souls to be convicted and yield themselves in submission to the Lord.
Pray specially for the sick, broken and afflicted, declare that as they participate in this glorious program, faith will be stirred in their hearts and they will receive their healing. Pray that there will be an unprecedented record of healing and miracles all over the world as a result of this program.
PROCLAMATIONS
I PROCLAIM that there is a massive and unprecedented harvest of souls at the Praise-athon and Your Loveworld Specials. The hearts of the people are receptive to God's word, and the hearts of stone are turned into the hearts of flesh, in Jesus Name, Amen. I PROCLAIM that millions around the world receive their healing as they participate in the Praise-athon and Your Loveworld Specials. I PROCLAIM that as the Word is ministered, the healing power of God is strongly present, and it flows to all that require healing; thus stirring their faith to take a hold of their healing, in Jesus Name, Amen.
Please follow and like us: