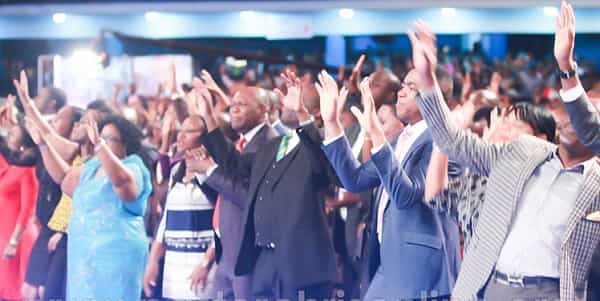 In Christ, you can be victorious all the time. Even when trouble comes, you always win. The quality of your life depends on the quality of knowledge that you have of Christ.
Prayer doesn't bring power, power comes from the Holy Spirit.
EPHESIANS 1:1-6
1. Blessed With All Spiritual Blessings From Heaven (Ephesians 1:3).
▪There are no blessings in Heaven that I don't have. There are no blessings in Heaven that don't belong to me. In Christ you never have a 'down day'. Take the word of God very seriously because God can only build you by His word. The physical answereth to the spiritual. So in Christ, I am blessed with all spiritual blessings.
2. I Am Chosen To Be Holy And Blameless (Ephesians 1:4).
▪God's not blaming me for something because He put the blame on Jesus. God sees me now as holy and sanctified, blameless.
▪People may blame you, you may even blame yourself for something, but before God, I'm blameless. God chose me in Christ to be blameless.
3. Predestinated Unto Sonship (Ephesians 1:5).
▪Before Jesus was born, He was Son of God. 'Son of God' means 'God in flesh'.
▪Jesus died two(2) deaths on the cross. He died a spiritual death because He was separated from God because of our sins. He died spiritually and physically.
▪On the cross, Jesus died my death. When He was raised from death, I was raised from death. Therefore God predestinated me unto SONSHIP.
▪God made it happen. Glory!!!
4. Endued With Special Favours And Honour (Ephesians 1:6).
▪In Christ, I am endued with special favours and honour.
5. Riddance (Ephesians 1:7).
▪No matter what, I have my redemption, my riddance in Christ. He rids me of all troubles.
▪So, in Christ, I cannot be a victim, I'm always victorious!
6. Remission Of Sins (Ephesians 1:7).
▪This means 'the total removal of sins'. The Greek word from which Forgiveness was coined is 'aphesis' which is 'complete blotting away'. So in Christ, I have no record of sin. Glory to God!
7. We Have An Inheritance (Ephesians 1:11).
▪In Christ, I have OBTAINED an inheritance.
▪You may be born without an inheritance, but not in Christ. It doesn't matter that you were born in a poor village, I AM POOR NO MORE!!!!!!
▪CHRIST HAS MADE ME SOMEBODY. I HAVE AN INHERITANCE!!!!!!
▪I AM A HAVER!!!!!!!!!!!!
▪Someone said 'oh poor me'…. NO!!!…don't talk like that. you can't be poor in christ!
▪The inheritance is now mine. I have obtained. I now have the document!!!!!!!!!. I lay claim on my inheritance through the word!
▪Many don't know this. To them life is a fight all the time, they fight for a position, fight for an office, fight for everything, but the one who knows this things, life is different!
GLORY TO GOD FOREVERMORE!
Please follow and like us: