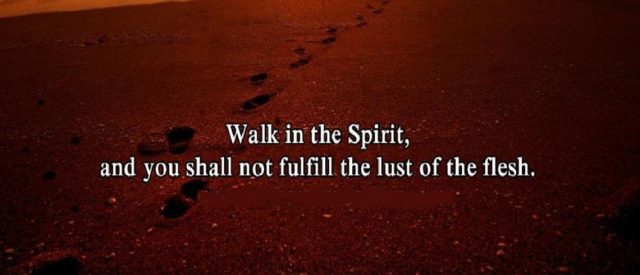 This I say then, Walk in the Spirit, and ye shall not fulfill the lust of the flesh (Galatians 5:16).
The life of faith we've been called to as Christians is a spiritual one, hence you must be passionate about spiritual things. There're certain important things you must do to be ruled by the Spirit of God. Firstly, you've got to study the Word to know it. This way, you'll become familiar with the voice of God's Spirit.
Secondly, you have to train your spirit to respond to God by acting on the Word promptly without delay. Back in the Old Testament, God instructed the children of Israel not to delay. He said, "be not slothful to possess the land" (Joshua 18:3). In other words, don't be slack or slothful. This in a sense parallels His admonition in Romans 12:11: "Not slothful in business; fervent in spirit; serving the Lord."
Thirdly, have a clear desire to grow spiritually, and focus on spiritual things. Besides praying fervently and studying the Bible regularly, make attending church services, meetings and programs in your local assembly a top priority. The Bible says "Not forsaking the assembling of ourselves together, as the manner of some is; but exhorting one another: and so much the more, as ye see the day approaching" (Hebrews 10:25).
Stressing the importance of being passionate about spiritual things, Jesus said in Mathew 5:6 "Blessed are they which do hunger and thirst after righteousness: for they shall be filled." The proof of desire is pursuit; you can't really desire something and not go for it. If you're truly hungry and passionate for spiritual things your hunger will be satisfied. So have a burning zeal to grow in the things of God. Pursue your desire for God with your resources such as time, money and attention, and prayer.
This is important because what you desire is not just going to show up except you pursue it. All of these will help you drown the voice of the flesh, and the Spirit will gain the mastery in your life. The voice of God's Spirit will be clearer to you, and you'd live the glorious life every day.
Please follow and like us: