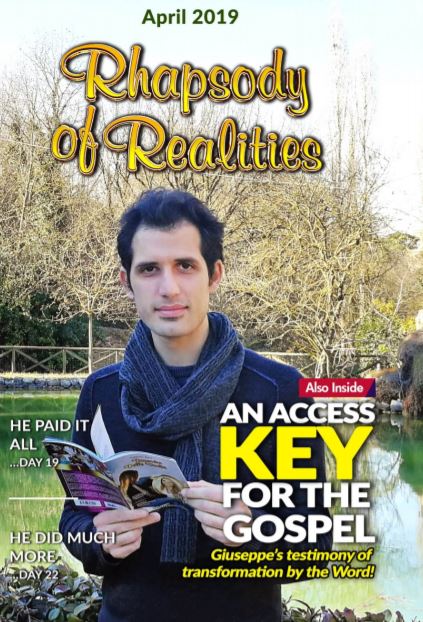 Three Ways To Testify
And we have seen and do testify that the Father sent the Son to be the Saviour of the world (1 John 4:14).
There're three ways you testify: one is by declaring before the Lord Himself what He did for you.
You count your blessings and testify of His goodness in your personal life; you're conscious of, and thankful for, all He's done for you, in you, and with you, affirming that they happened by His grace, mercy, faithfulness, and love that endure forever.
Secondly, you testify with your offering. This is the part that not so many yet understand and practise: the power of the offering. It's a testimony. When you give God your offering, it's not a collection; it's a hallowed oblation, with which you're testifying that He's God and not a man. With your offering, you're testifying and giving glory to Him in your life.
The Patriarchs—Abraham, Isaac, Jacob, David, and his son Solomon—all gave offerings upon the altar in worship to God. Take Solomon, for example; 1 Kings 3:4 says, "…a thousand burnt offerings did Solomon offer upon that altar." Solomon offered a thousand burnt offerings where God would have accepted a much lesser figure; but it reflected His recognition and testimony of the greatness of God.
Apart from your offering being a celebration of the prosperity of God in your life, it's also your affirmation or testimony of His greatness, and your recognition of His power and sovereignty. The third way to testify is to tell others that which the Lord has done in, with, and for you. You tell of His goodness before men, living your life every day in faith, bearing fruits of righteousness. You're joyful always, irrespective of circumstances.
It's a testimony of your faith and confidence in the Lord when people see you and observe that you're joyful and unruffled in the face of diverse tests. They observe that regardless of the pressures and adversities that you face, you're steadfast, unmoved, always abounding in the work of the Lord; therefore, they're inspired by your life of faith and trust in the Lord. That's a testimony.
The aforementioned are basic ways that you testify to the glory of God in your life. Hallelujah!
PRAYER
Blessed Father, you're great, and greatly to be praised. Thank you for the blessings and miracles I experience in my life, which are acts of your love and kindness. The heavens and earth declare your mighty works, and testify of your infinite wisdom and grace, even as all creation sings "Hallelujah" to you, the eternal King of glory. Blessed are you forever. Amen.
FURTHER STUDY:
Luke 17:17-19; Revelation 12:11
1 YEAR BIBLE READING PLAN: Luke 9:37-62 & Joshua 16-19
2 YEAR BIBLE READING PLAN: Matthew 27:11-25 & Leviticus 3
Please follow and like us: