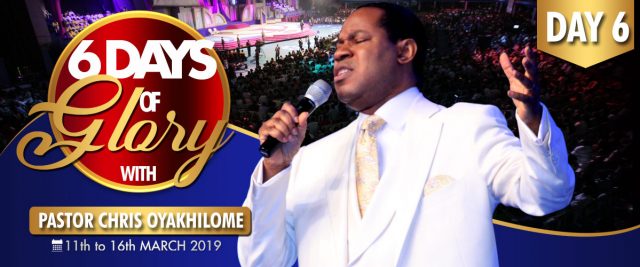 The 6 days of Glory was simply amazing, and the presence of the Holy Ghost was tremendously present to bless everyone who participated, one thing is certain we will never be the same again.
Our man of God Pastor Chris wrapped up the evening on a high note blessing us with God's word which he shared form Ephesians chapter 3, stating that Phronesis gives you a mindset, Christ is the embodiment of all wisdom and knowledge.
The more you open up yourself to Christ and His wisdom the more you get better. You start thinking like God. But it's got to be a desire in your heart to go in that direction because you have to want it before you can get it. Ephesians 3 vs 20-22.
You give God glory by giving Him the credits for the work he has done Ephesians 4 vs 1
Vocation in KJV refers to calling, to work worthy of your calling is to say no to anything that doesn't conform with the life of Christ in you. 1John 4:4, 1John 5:4, 1Peter 1:23
In Christ you have overcome every force, every power and everything that is against you. The multiplicity of prayers doesn't make God answer, it's the acting on the word that causes things to happen. James 4:7. When you resist the devil, he'll run away from you in fear of you, that's what the Bible says… If he didn't run you didn't resist him. Act like someone that has been called of God, that's why you have to know and understand the word. Ephesians 4:4-9, Ephesians 4:17-23.
Romans 2:29, 1Peter 3:4, 2Peter 1:1-2, I'm created in righteousness and true holiness. Romans 6:14, I manifest the anger of God because I'm a child of God. Ephesians 4:24-32.
However I do not let my anger last for long, so I don't give opportunity to the devil. To steal means you don't believe in God because your father owns the whole world. I'm not a taker, I'm a giver, Glory to God! Corrupt communication is that which is not in consonance with the word of God. If there's no foolishness in you it cannot come out of your mind, if there's no hatred in you it cannot come out of your mind.
Forgiveness doesn't mean a restart, when you forgive or are forgiven, you take the next steps (Forgive and move on). Ephesians 5:17-19
When you know God's will through the scriptures, you then know more and more of what to do in situations that are not linked to any particular verse of scripture, that's if you'll listen to Him in the written word. Be being filled with the Spirit (refers to a continuity). Colossians 3:16, Jude 1:24-25. I believe in the God who is able to keep me from falling. 2Peter 1:8-10, Ephesians 5:20-33. If your husband thinks you don't respect him you'll be destroying your relationship, every husband must be Christ-like. Ephesians 6:1-4.
No matter who your parents are never be ashamed of them, you owe your parents and you must pay them and you must keep paying them. You must honour your parents that it may be well with you. Your mother or father doesn't need to have any sense and don't have to be good, do what the scriptures say to honour your parents. Ephesians 6:10-20, Colossians 1:12-13, 1Thessalonians 5:5.
Anger and frustrations causes sickness and diseases that are so bad no one wants to take care of them, demons influences a person to have hatred, demons don't know everything and they only relay on our ignorance. You must have a pure mind. I WILL BLESS THE LORD AT ALL TIMES AND HIS PRAISES WILL CONTINUALLY BE ON MY LIPS! Romans 8:26-28.
We indeed had a time of our life at the 6 Days of Glory with our life Coach, teacher and father, Pastor Chris, thank God for the beautiful week spent with the Holy Ghost. We hear to do. Relive the Moments at the 6 Days of Glory here Day 1, Day 2, Day 3, Day 4, Day 5
Please follow and like us: