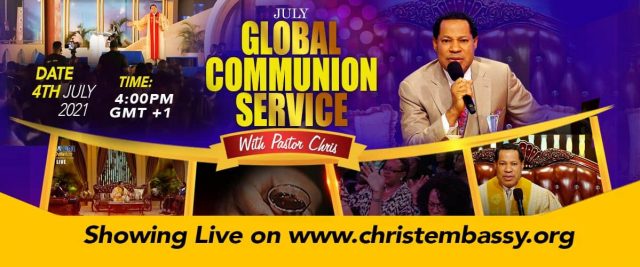 PRAYER GUIDE FOR JULY 2021 GLOBAL SERVICE WITH PASTOR CHRIS WEDNESDAY 30TH JUNE 2021 PRAY THAT THE LORD OF THE HARVEST WILL SEND FORTH LABOURERS INTO THE HARVEST FIELDS OF LEADERS OF NATIONS.
PROVERBS 21: 1 The king's heart is in the hand of the Lord, as the rivers of water: he turneth it whithersoever he will LUKE 10: 2 …Pray ye therefore the Lord of the harvest, that he would send forth labourers into his harvest.
1 TIMOTHY 2:1-4 I exhort therefore, that, first of all, supplications, prayers, intercessions, and giving of thanks, be made for all men; For kings, and for all that are in authority; that we may lead a quiet and peaceable life in all godliness and honesty. For this is good and acceptable in the sight of God our Saviour; Who will have all men to be saved, and to come unto the knowledge of the truth
PRAYER POINT
Pray specially for the Leaders of Nations, that the Lord will send forth labourers into the harvest field of leaders of nations; causing there to be an extraordinary wave of salvation of leaders. Pray for all those in all levels of leadership in different sectors and positions of authority in the nations (global, federal, state, and community wide); declare that men and women of faith are rising up in palaces, parliaments, federal and state houses, and senates of nations, as well as in the United Nations, IMF, W.H.O, African Union, World Bank, World Economic Forum and the various global organizations; causing a massive harvest of the souls of these leaders. Declare that these leaders are converted and become soul winners and partners of the great Gospel of our Lord Jesus Christ.
PROCLAMATIONS
I PROCLAIM that there is an extraordinary wave of salvation of leaders of nations, and many leaders are turning in total submission to the Lord.
I PROCLAIM that the veil of darkness that has covered the minds of leaders of nations is taken off, and the hold of the deep state over their lives is completely broken.
I PROCLAIM that leaders are bold to stand for the truth and protect their people and will refuse to be swayed by the adversary.
I PROCLAIM that the Gospel of our Lord Jesus Christ grows rapidly and prevails in all nations of the world in Jesus Name. Amen.
Please follow and like us: