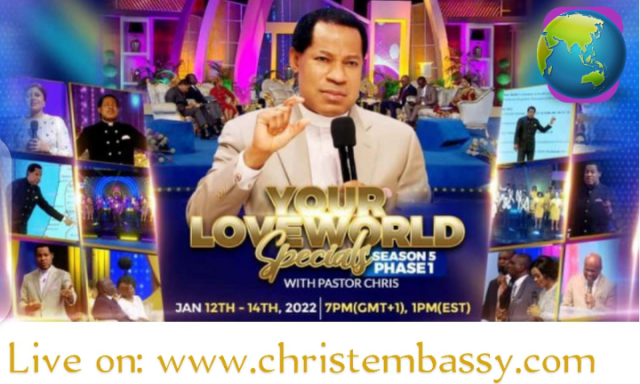 Billions gear up for Your LoveWorld Specials with Pastor Chris (Season 5, Phase 1) live on all LoveWorld TV Networks and various internet platforms.
A fresh wave of deep insights and profound revelations is set to be unveiled in the upcoming all new season of the epochal 'Your LoveWorld Specials' with Pastor Chris, holding from Wednesday, January 12th to Friday, January 14th, 2022. Currently, in its Season V, Phase I, the 3-day special Word diet will beam live to a teeming global audience, numbering in billions, via all LoveWorld networks and numerous internet platforms.
Celebrating a reach of over 6 billion persons around the world, 'Your LoveWorld Specials' has served as a beacon of hope, faith, and truth to myriads amid the global crisis that hit the world in recent times. Through profound teaching of the Word, prayer, and prophetic declarations, Pastor Chris razed the quakes of fear that engulfed the nations in the past few years. The man of God, Pastor Chris has raised the dike to take the Gospel to over 7 billion people around the world in 'this Year of the Gathering Clouds'.
In the beckoning phase of the special telecast, Pastor Chris will begin to align the global audience to attain this vision. "The doors of the nations would remain open for the Gospel, and things are going to be moving on the clock of the Spirit," the man of God remarked, enjoining all to participate in the broadcast. It's going to be a date with destiny in the presence of the Lord; a compendium of earnest prayers, heartfelt worship, profound answers to mind-boggling questions, and the ministration of the undiluted Word of God. 
Expect God's Word in a new dimension and more accurate information on the state of the world per God's calendar as Pastor Chris ministers during the 3 days telecast. Spread the news and get everyone in your sphere of contact to participate with you.
Please follow and like us: