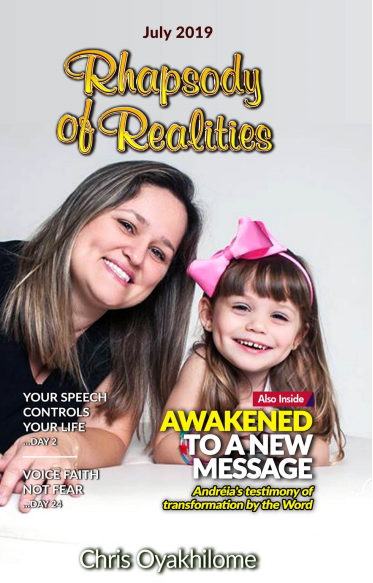 Get A "Word-bath"
Now ye are clean through the word which I have spoken unto you (John 15:3). Imagine a Christian waking up in the morning and turning on the TV to discover that the programme airing happens to be "Pastor Chris Teaching."
He gives it full attention till the end and then the next programme comes up, this time, it's an unwholesome one for a Christian. Even so, he continues to watch.
When he's done watching this, and several others after it (all with unwholesome contents), he's too tired to pray or study the Word. He feels condemned and even begins to feel too "dirty" to go to church, thinking he'd need to "clean up" first. He could start praying, "Oh God, please revive me."
For this Christian, it's now very necessary to go to Church! His unedifying action could slow down his progress spiritually if it continues, but he needs an urgent Word-bath! No one is ever "too dirty" for God. In our opening verse, Jesus said, "Now ye are clean through the word which I have spoken unto you" (John 15:3).
It's the ministry of the Word to cleanse you of sin, guilt, and all unrighteousness. So, don't stay at home when you ought to be in Church because you thought you did something wrong that made you "too dirty" for God. Go to Church! He'll clean you up! He does it through the Word.
Jesus didn't come for perfect men. Rather, He came to make men perfect. He specializes in changing imperfect people and bringing them to perfection. He raised an "unstable" person like Peter and transformed an injurious personality like Paul, who both became mighty apostles of the Gospel. If He'd do that, then He can cleanse and train you to become the best of you for His glory.
Submit yourself to the cleansing power of God's Word. Study and meditate on the Scriptures. You might say, "But I don't know where to begin to even read the Bible." This devotional gives you a head start. Keep studying it, including all the indicated scriptural references.
In addition, meticulously follow either the one-year or two-year daily Bible-reading plan. Before long, you'll see a remarkable transformation in your life, and those around you will also attest to the grace and glory of God evident in your life. Praise God!
CONFESSION
Sin has no dominion over me. I walk in perfection and excellence, producing works and fruits of righteousness. The Word of God has mastery over my mind, and I have the victory over sin and its attendant consequences. I live triumphantly, walking in righteousness and in the wisdom of Christ. Blessed be God!
FURTHER STUDY:
2 Corinthians 3:18; Romans 12:1-2; 1 John 2:1-2
1 YEAR BIBLE READING PLAN: Acts 17:16-34 & Job 6-8
2 YEAR BIBLE READING PLAN: Luke 6:39-49 & Deuteronomy 33
Please follow and like us: