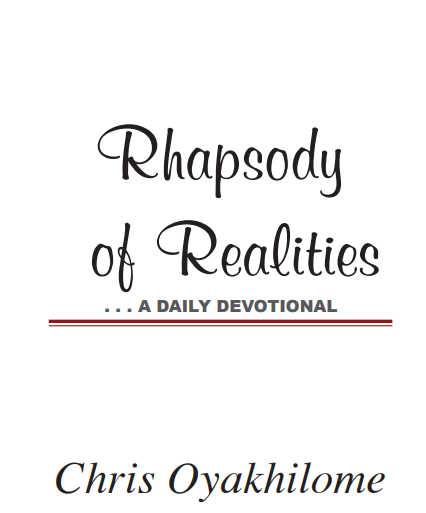 Be Conscious Of The Spirit
If we live in the Spirit, let us also walk in the Spirit (Galatians 5:25).
There's a spirit world that's greater than this physical world. The physical world is a region or part of the spirit world. The Bible says God is a Spirit, and He created all things; meaning that there's a spirit connection to everything that God made. Nothing is detached from Him. In the realm of the spirit, He created a region for the physical man, even though man himself is a spirit being.
God gave man a physical body to live in, while in the physical region of His spiritual world. The earth isn't a separate entity from God's realm. Remember, in Genesis 1:2, the Bible says the Spirit of God moved upon the face of the waters. The Spirit of God incubated over the chaotic mass, which means the earth was within the coverage or reach of the Spirit, and governed by the Spirit. Many, because they don't realise this, and because they haven't understood the importance of it, limit their lives to the earthly region of this world. They don't realise that there's a greater play in the spirit world.
For every one of us that's born again, the Bible tells us to walk in the Spirit. How do you walk in the Spirit? It's walking in the light of God's Word; walking according to Kingdom principles. Become conscious that you live in, and are from another realm, a heavenly realm that's greater than this world. That consciousness will put you over the elements, failures, frustrations, darkness, and corruption in this physical world.
Life is spiritual, and we live in two worlds. But most people, every day, are only conscious of the physical realm. This is why many go through pain and affliction; victims of incurable diseases, because they're unable to control life from the spirit. The Bible says you're in the world, but not of the world. You're born after Christ, the man from heaven; you bear the image of the heavenly. You're from the Kingdom of God's Love Son. Hallelujah! And in that Kingdom, we play by divine principles; the strategies and weapons of our warfare are not of this world (2 Corinthians 10:4). We reign by grace through righteousness, and we prevail with, and through the Word. Hallelujah!
CONFESSION
The eyes of my understanding are enlightened to recognise my divine abilities in Christ and to comprehend and apprehend the spiritual realities of the heavenly Kingdom to which I belong, in Jesus' Name. Amen.
FURTHER STUDY:
Romans 8:9-10 NIV; Romans 8:13-14
1-YEAR BIBLE READING PLAN: Luke 7:36-50; Joshua 1-2
2-YEAR BIBLE READING PLAN: Romans 3:26-31; Psalm 98-100
Please follow and like us: