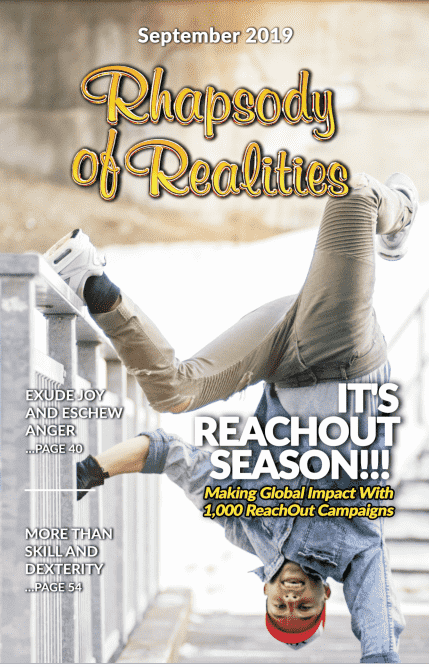 Tell The Story
Go ye therefore, and teach all nations, baptizing them in the name of the Father, and of the Son, and of the Holy Ghost (Matthew 28:19). Years ago, sitting in church as a kid, I watched a drama piece being performed by the drama group.
I was particularly enthralled by the last act. As the actors walked off the stage, the young boy who acted the preacher's role picked up the song: "Christ is coming, the King of glory; no more sorrow; no more weeping; tell the story among the nations; Christ is coming by and by."
The song hit me, and tears began to stream down my face. I left that service singing that song in my heart repeatedly. I felt like the song was talking to me. Though I was quite young, it created a burden in my heart. Every so often, I'd pray, "Lord, I'll tell the story among the nations." Now, what's the story?
The story isn't that Christ is coming but that He came once before. The Bible talks about His second coming, but He already came and went back to heaven, and many aren't aware yet.
As I read the Gospels—Matthew, Mark, Luke, and John—I found they were all telling the story. It's the story of Jesus; His origin, His birth, His life on earth, His death, His resurrection, and ascension. The Book of Matthew has a theme: it's mainly about Jesus, King of Israel.
Mark takes it a bit further, showing us this Jesus is the Christ. Luke tells us He was God's answer; and John sees Him as the Word and tells from the beginning, the story of the One who made all things, and pre-existed the beginning. It's the story of the Word who became flesh and dwelt among us.
John and the rest of the Apostles have gone to heaven, having told the story of the Son of God. Now, we must tell it, and keep telling the same story. We must remain dauntless in proclaiming His undying love for humanity, as we usher men into the glory of His divine presence and love. Amen.
PRAYER
Dear Father, thank you for the salvation of men, and for trusting me with the message of reconciliation. Your Word in my heart is as a burning fire shut up in my bones. I take my place in the end-time army, as a bearer of divine truths to my world. Through me, many are turned from darkness to light, and brought into the glorious liberty of the sons of God, in Jesus' Name. Amen.
FURTHER STUDY:
Mark 16:15; 2 Corinthians 5:18; Psalm 67:2 TLB
1-YEAR BIBLE READING PLAN:
Corinthians 6:3-7:1 & Proverbs 20-21
2-YEAR BIBLE READING PLAN 2:
Luke 21:20-28 & 1 Samuel 26
Please follow and like us: