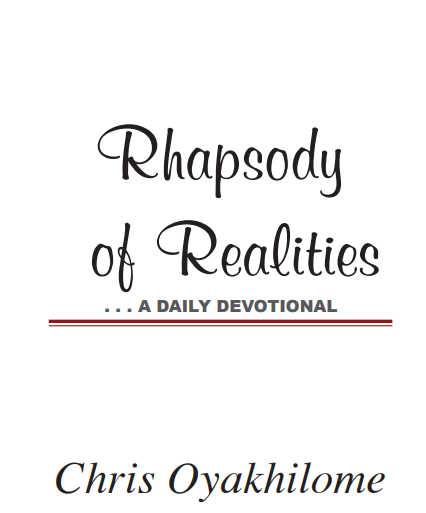 YOU'RE GOD'S DREAM
_Of his own will begat he us with the word of truth, that we should be a kind of first fruits of his creatures (JAMES 1:18).
The new creature is God's dream! He is everything God ever wanted. God created the heavens, the earth and everything therein, but He couldn't be one with any of those things. He couldn't fellowship with any of the animals or things He created except man. His purpose for sending Jesus was to make it possible for man to be brought into oneness with God. So, you're very special to God.
Read our theme verse again; it says you're the first and the best of all that God created; His excellently crafted handiwork. How could anyone know this and still think failure? You couldn't know this and live in defeat, poverty and misery; it's not possible! You were born in the throne room and you live right in the presence of God. Everything in this world is yours. Paul understood it and declared, "… all things are yours…the world, or life, or death, or things present, or things to come; all are yours" (1 Corinthians 3:21- 22). Hallelujah!
There's something different about you. You're the one who can shout, "I've got the whole world!" even if your account balance is seemingly in minus, because you walk in the Spirit and not in the flesh. You walk by faith, not by sight (2 Corinthians 5:7).
In the Old Testament, they couldn't fulfil His dream; they were men and women of the senses. He had said to them, "Now therefore, if ye will obey my voice indeed, and keep my covenant, then ye shall be a peculiar treasure unto me above all people: for all the earth is mine" (Exodus 19:5). But they couldn't obey Him.
However, in our case, He didn't require us to first "obey" His commandments; rather, He made us new creations and called us obedient children (1 Peter 1:14). As a result, what He promised to make them (a peculiar treasure) if they obeyed Him, we became by the New Birth.
Now that you're born again, you're God's peculiar treasure. It's what Jesus did in your behalf. The Bible says "Who gave himself for us, that he might redeem us from all iniquity, and purify unto himself a peculiar people, zealous of good works" (Titus 2:14). 1 Peter 2:9 says, "But ye are a chosen generation, a royal priesthood, an holy nation, a peculiar people; that ye should shew forth the praises of him who hath called you out of darkness into his marvellous light." Blessed be God!
PRAYER

Dear Father, I thank you for the fullness of the blessings of the Gospel, which I enjoy today as a result of Christ's sacrifice in my behalf. Through Christ's obedience, I've become a sharer and participator in the divine life and Kingdom benefits. In Christ, all your promises are fulfilled in my life, and I live in total fulfilment, in Jesus' Name. Amen

FURTHER STUDY:
DAILY SCRIPTURE READING:
EPHESIANS 2:10,
1 PETER 2:9 AMPC,1 PETER 1:14
1 YEAR BIBLE READING PLAN: 1 Peter 1:22-2:1-25 & Ezekiel 29-30
2 YEAR BIBLE READING PLAN: John 14:1-9 & 1 Chronicles 23
Please follow and like us: