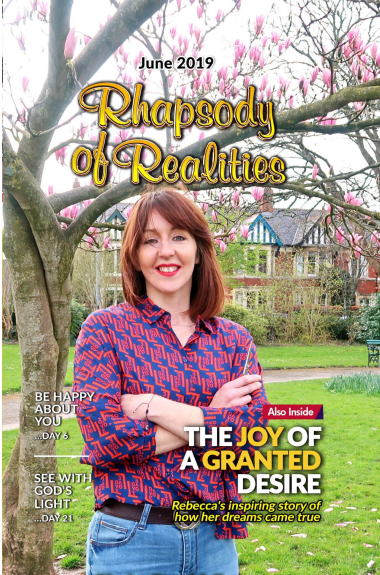 It's Happening Real-time
For it is God which worketh in you both to will and to do of his good pleasure (Philippians 2:13). Notice that the verse we just read doesn't say, "For it is God who used to work in you…." Rather, it says, "For it is God which worketh in you…."
The word, "worketh" is old English for "works"; it's not in the past or future tense. It's present progressive tense. God is at work in you, NOW! It's happening in real time. He's effectively at work in you, strengthening, energizing, and creating in you the longing and the ability to fulfill His perfect will for His good pleasure. Aren't you glad about that!
This means there's no margin or possibility for failure or weakness, because the Almighty God Himself is the one propelling, inspiring, enabling and driving you to do His will! There're those who are concerned and even scared about tomorrow; not being sure if they'd still be pleasing God, and walking in His light. No! Not when you're conscious that He's the One at work in you.
Yes, by your own strength you won't make it; you might falter and fall. The Bible says "He will keep the feet of his saints, and the wicked shall be silent in darkness; for by strength (natural human ability) shall no man prevail" (1 Samuel 2:9). He thus gave us the Holy Spirit, to live in us and help us live the God-life to the full.
Walking in righteousness, participating in godly, loving others, etc., are results of His effectual, real-time work in you! All that time you had the thought to do something that's good for God, and good for people, it wasn't your mind or your flesh; it was God working in you.
Even now, He's the One at work in you as you study this devotional. Through the teachings, prayers, further study, and the different daily Bible readings, He's bringing you information and enlightenment. The intensity of His glory is increasing in your life, as you bask in untold blessings of His Word. He's making necessary adjustments, transformations and changes in your life, to keep you a champion and a victor forever. And He's doing this in real time! Hallelujah!
PRAYER
Dear Father, I acknowledge and take full advantage of your inherent power and energy, which so powerfully works in me. I bask in your mighty grace that's at work in me even now, and I declare that I can do all things through Christ which strengthens me. I'm sufficient in your sufficiency, functioning by the ability, efficiency, and might of the Spirit, in Jesus's Name. Amen.
FURTHER STUDY:
Acts 1:8 AMPC; Colossians 1:29 NIV; 1 John 4:4 AMPC
1 YEAR BIBLE READING PLAN: Acts 8:9-40 & 2 Chronicles 33-34
2 YEAR BIBLE READING PLAN: Luke 2:21-32 & Deuteronomy 17
Please follow and like us: