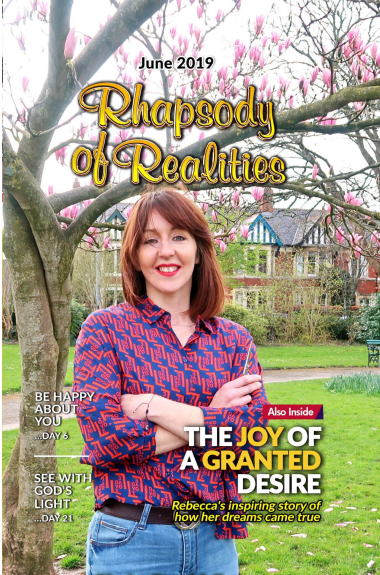 We Walk In Blessings Only
Surely there is no enchantment against Jacob, neither is there any divination against Israel: according to this time it shall be said of Jacob and of Israel, What hath God wrought (Numbers 23:23). There're Christians who have come to the conclusion that their predicament is the result of a curse working against them.
They're thus going around seeking deliverance from so-called ancestral or other curses. Such Christians, consciously or inadvertently, have been deceived. The Christian is superior to Satan and everything of darkness, and therefore can't be under a curse.
The Bible says, "Therefore if any man be in Christ, he is a new creature…" (2 Corinthians 5:17). You've been born anew, called to inherit a blessing, not a curse: "…ye are thereunto called, that ye should inherit a blessing" (1 Peter 3:9). Read God's promise to Abraham in Genesis 12:3: "And I will bless them that bless thee, and curse him that curseth thee: and in thee shall all families of the earth be blessed." Blessings are at work in you, because you're the seed of Abraham. No one can bewitch you or cast a spell on you.
If you were told that someone was trying to charm you, you don't even have to pray for it not to work. You can neither be charmed nor cursed. There's no enchantment against Jacob, neither is there any divination against Israel. This is your heritage as the seed of Abraham.
Did you say there's someone somewhere scheming against you, your family, or your job? Don't panic. Don't fret. Their schemes against you can't work. They should take a cue or learn from Balaam of the Old Testament. After several futile attempts to enchant and curse Israel, he submitted, "No magic spells can bind Jacob, no incantations can hold back Israel…" (Numbers 23:23 MSG).
Balaam couldn't lay a curse on them, because they were God's people; and today, we're living out better promises. You walk in blessings only, and only the blessed Word of the Lord can come to pass in your life. Even the demons know who you are. There's a mark on you; you're branded for God; sealed for blessings. Glory to God!
CONFESSION
I'm branded for God, and there's no enchantment against me! I'm blessed with all spiritual blessings in heavenly places in Christ. I'm conscious of this truth and the authority I have overall principality, power, and the rulers of the darkness of this world! I walk in blessings only! In Christ, I'm secure and fortified against all machinations of the enemy. Glory to God!
FURTHER STUDY:
Numbers 23:23 GNB; 1 Peter 2:9
1 YEAR BIBLE READING PLAN: Acts 12 & Nehemiah 4-6
2 YEAR BIBLE READING PLAN: Luke 4:14-32 & Deuteronomy 24
Please follow and like us: