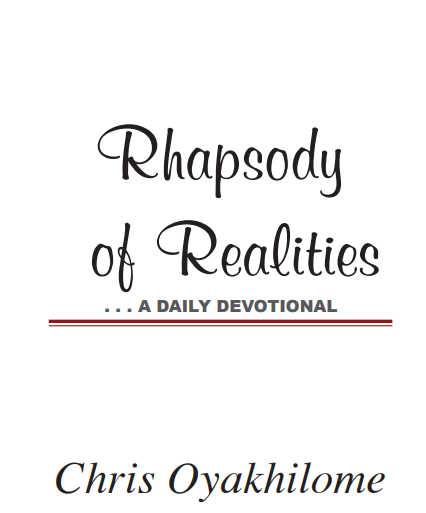 THE HOLY SPIRIT —YOUR ADVANTAGE
But you shall receive power (ability, efficiency, and might) when the Holy Spirit has come upon you… (Acts 1:8 AMPC).
In your life, career, ministry, business, job or academics, are there limits you want to break? Are there new records you want to set? Do you want to chart new vistas? What is it you want to achieve? The Holy Spirit in you is your advantage! There's something about His power and grace that causes you to do the extraordinary and unimaginable!
If you were tasked with any project or assignment, maybe in your school, place of work or an evangelical assignment in your local church, execute it by the power, wisdom and guidance of the Spirit. Become conscious that you're up to that task because of the greater One who lives in you; working in, and through you.
The Bible says, "For it is God which worketh in you both to will and to do of his good pleasure" (Philippians 2:13). Zechariah 4:6 says, "…Not by might, nor by power, but by my spirit, saith the LORD of hosts." That same Spirit is in you today, and has brought the glory of God into your life, giving you guidance and direction, with the wisdom and ability to walk through "walls" and blaze new trails. He's filled you with supernatural ability to do things that can't be humanly explained.
2 Corinthians 3:5 AMPC says, "Not that we are fit (qualified and sufficient in ability) of ourselves to form personal judgments or to claim or count anything as coming from us, but our power and ability and sufficiency are from God." Blessed be God! Every day, tell yourself, "I can do all things by the Holy Spirit who lives in me!"
Take advantage of the person, power, grace and ministry of the Holy Spirit in your life! He's your advantage. He causes you to see, think, say and do things ordinary men can't.
CONFESSION
Blessed Holy Spirit, how I love you! I acknowledge you as my advantage; the One I need to be an absolute success in life. Thank you for your ability, strength and wisdom that are mightily at work in me. I walk in health, victory, strength, prosperity and glory, as you perfect your will in me, causing me to do of your good pleasure, in Jesus' Name. Amen.
FURTHER STUDY
John 14:16-17, Colossians 1:26-29,
1-YEAR BIBLE READING PLAN:
Romans 3:1-31; Psalms 42-44
2-YEAR BIBLE READING PLAN:
Luke 11:37-44; Judges 2-3
Please follow and like us: