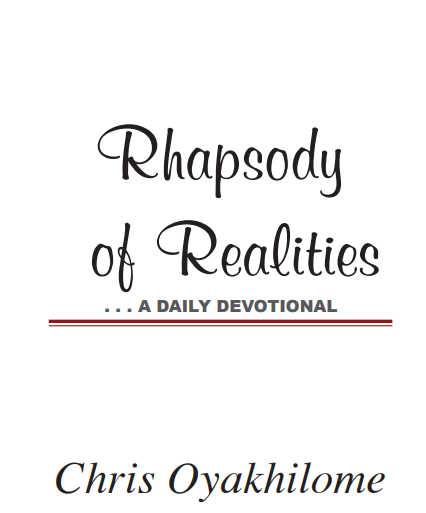 HE'S MINDFUL OF YOUR WORK
For God, the Faithful One, is not unfair. How can he
forget the work you have done for him? He remembers the love you demonstrate as you continually serve his beloved ones for the glory of his name (Hebrews 6:10 TPT).
This is as inspiring as it's comforting! Everything you do for the
Lord is recorded, and He rewards you for it. He's mindful of your work and labour of love. You may have been told you were wasting your time or being foolish for preaching the Gospel and serving the Lord
as you do, but God cares about your work. Therefore, keep at it.

He said in Revelation 22:12, "And, behold, I come quickly; and
my reward is with me, to give every man according as his work shall
be." What a day that will be! What a day to look forward to! So I urge you with the same words of the Spirit by the Apostle Paul in 1 Corinthians 15:58, "Therefore, my beloved brethren, be ye steadfast, unmoveable, always abounding in the work of the Lord, forasmuch as ye know that your labour is not in vain in the Lord."

There may be times that you're about the Lord's work and there seem to be adversities on every side; don't despair. At such times, always remember that the Lord isn't unrighteous to forget your work and
labour of love. He'll reward you for all that you do, and have done in and for His Kingdom.

He knows about your tears in intercession; your passion in prayer
for lost souls. He's aware of all your financial contributions to the spread of the Gospel, and your personal evangelical efforts to win souls for Christ. He's aware of all the sacrifices you've made for His Name's sake; the time, money, family, friends, and relationships you gave up for Him! He hasn't forgotten.

Your blessing isn't deferred but begins here on earth (read Mark
10:29-31). You're never a fool for your devotion to Christ. Your faith, hope, and love are not in vain. Keep doing all that the Lord inspires you to do for Him; keep spreading His glory through your works of righteousness in your world and in the regions beyond.

PRAYER

Dear heavenly Father, with an unwavering commitment and renewed
vigour, I give my time, resources, money, and all in my care for the
Gospel. I yield myself to your Spirit for greater service, passionately
seeking the expansion of your Kingdom, for I know that greater
blessings are mine in Christ Jesus, with greater honours. Amen.

FURTHER STUDY:

Matthew 16:26-27; 2 John 1:8 AMPC; 2 Timothy 4:5-8

1 YEAR BIBLE READING PLAN: Revelation 21 & Malachi 1-2

2 YEAR BIBLE READING PLAN: Revelation 22:1-10 & Malachi 1-2
Please follow and like us: