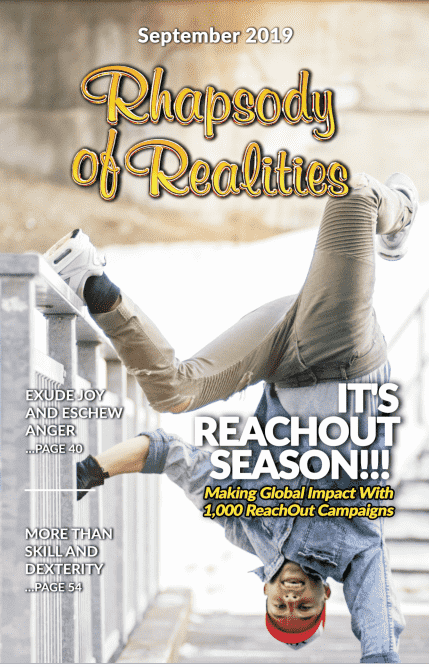 Get Your Emotions Involved
…The effectual fervent prayer of a righteous man availeth much. Elias was a man subject to like passions as we are, and he prayed earnestly that it might not rain: and it rained not on the earth by the space of three years and six months (James 5:16-17). Some people pray absent-mindedly, without their emotions, and it's one of the reasons their prayers are ineffective.
Notice our opening scripture; it talks about Elijah praying in a heartfelt, emotive manner; he was passionate.
Not many realize that it's okay to get emotional with the Lord, because He's got emotions too. The Bible says, "He that sitteth in the heavens shall laugh…" (Psalm 2:4). Laughter is an emotion. Joy is an emotion, and God expresses His joy (Zephaniah 3:17). Therefore, in prayer, it's okay to focus your mind on Him and express your love lavishly and passionately.
When you get your emotions involved in prayer, your spirit is conditioned in a way that's receptive to the Holy Spirit. At that moment, your mind is channelled to your purpose of prayer and attentive. Recall that the Bible says, "Thou wilt keep him in perfect peace, whose mind is stayed on thee: because he trusteth in thee" (Isaiah 26:3). Learn to stay your mind and emotions on the Lord in prayer!
If, while you're praying, your mind strays to other thoughts, consciously get it back to focus on the Lord and the subject matter. On the other hand, if you're praying in tongues or praying without a particular subject, you can still keep your mind and emotions on the Lord and let your spirit or the Holy Spirit bring forth words or thoughts to your consciousness at that time.
PRAYER
Dear Father, I thank you for the privilege and honour to pray and receive answers. Even now, my mind is completely yielded to you, with my thoughts and words synchronized with your Spirit, in earnest supplication and worship, in Jesus' Name. Amen.
FURTHER STUDY:
1 Samuel 1:9-13; James 5:16 AMPC; 1 Corinthians 14:14-15
1-YEAR BIBLE READING PLAN:
Corinthians 2:5-3:1-6 & Proverbs 14-15
2-YEAR BIBLE READING PLAN 2:
Luke 20:39-47 & 1 Samuel 23
Please follow and like us: