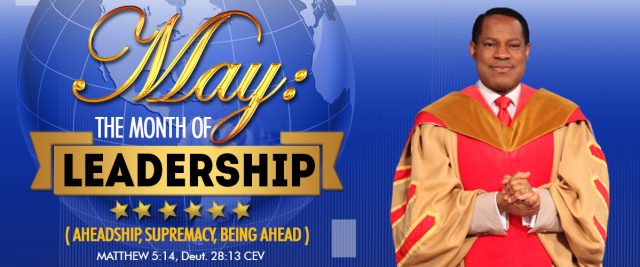 It was a glorious time of fellowship with our man of God Reverend (Dr.) Chris Oyakhilome, as he declared May 2019 to be 'the Month of LEADERSHIP!" In explaining this, Pastor Chris coined the word "ahead-ship", a description given to Him by the Spirit of God to describe the positioning of God's people ahead in this month.
This month of May, the grace for leadership is at work in you. Remember what it says "Ye are the Light of the world. A city that is set on a hill cannot be hid" Matthew 5:14.
The most important thing about leadership is LIGHT. Without light, you are not a leader. The one who has the light is the leader. You can't lead with darkness, you lead with Light. Remember it's our year of lights.
In this month, work with the grace of being ahead. Leadership is at work in you. God said through His prophet Jacob, the scepter shall not depart from Judah. Judah was not the first son but God gave Him the scepter, meaning that is God's choice. God has given us leadership. He has done it. It is impossible for you to be at rest and do nothing. Leadership is responsibility and it will stir you up to be the answer to your world. This thing is in you. You've got to do something. That Grace is working in you this month. The Spirit of God will stir you up. There's something in my Spirit that I cannot keep still. It's got to come out. He's made us leaders. It's our calling. The impartation is in our Spirit. You'll wake up with responsibility to DO and you will not fail. You shall be above only and not beneath.
The Lord has given you leadership; it's in your system. It is impossible for you to do nothing with it.
Leadership is responsibility. The inspiration of the challenges around you will stir you up to do something.
Leadership is strong in you and you've got to do something this month. The Spirit of God will stir you up to take action.
The Spirit of God stirs us up to pray because there's something strong in our spirit about this Gospel.
The impartation is in your spirit and you cannot fail because you were chosen to lead and win.
Obey the laws and teachings that I'm giving you today, and the Lord your God will make Israel a leader among the nations, and not a follower. Israel will be wealthy and powerful, not poor and weak – Deuteronomy 28:13 CEV.
I AM ABOVE ONLY NOT BENEATH
I'm the light of the world… I have an excellent spirit. Don't give in, it's a trap. Don't speak according to your feelings or sight… I know who I am. The lines are fallen unto me in pleasant places
"I have ideas, insight, foresight, guidance, solutions, answers, I lead the way, I know what to do, and I function with an excellent Spirit because the Holy Spirit leads me" HALLELUJAH!!
Congratulations and welcome to the Month of Leadership! Watch highlights in the featured video.
Please follow and like us: