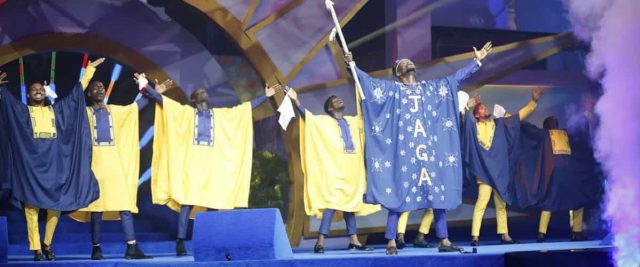 The glory of this latter IMC, no doubt exceeds that of the former.
The International Cell Leaders Conference 2019, came to a climax with a special time of celebration, and fanfare at the International Music concert (IMC 2019). It was a celebration of the increased grace, special blessings, divine revelations, and impartations of the Spirit received during all sessions of the ICLC.
Ministers, leaders, and beloved citizens of the LoveWorld nation, were treated to diverse forms of anointed music, and art presentations in an atmosphere of glam and lustre as they danced and sang along to lit performances by Testimony Jaga, Chosen, Eben, Frank Edwards, Ada, Jahdiel, Ur Flames, The Band UK, Israel Strong, Chookar, Sis. Wisdom, and others.
Unique dances, spoken words poetry, and other forms of presentations at the IMC, left all delegates in awe, filled with gratitude to God for being enlisted into His end time elite force. All delegates present, were stirred to return, and reign in their regions.
The IMC came to a close with the LMAM ALL STARS group presentation led by the Director, Evang. Kathy Woghiren and then special pronouncement of blessings on all present, by our man of God, Reverend (Dr.) Chris Oyakhilome.
Certainly, memories of this year's IMC will linger in the hearts of all who witnessed the event for many years to come.
Please follow and like us: