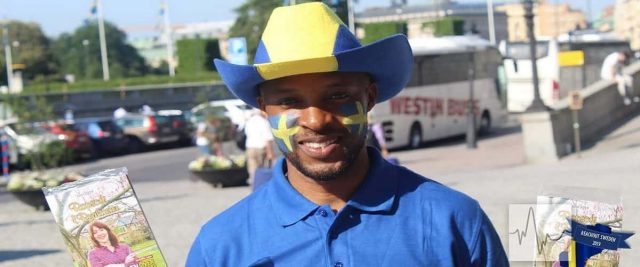 Stockholm City, Gothenburg and Umeå, saturated with the message of righteousnes in Christ Jesus.
The nation of Sweden was once again overrun with the messenger angel as brethren of Christ Embassy Sweden, in a joint avalanche took to the streets to spread the gospel, and reach out to souls.
June 6th is a revered day, and public holiday in Sweden, set aside for the celebration of the national day. This day is renowned for its massive population of city centers, streets, and parks with all, and sundry celebrating the season according to their own inclinations.
Seizing this opportunity, the entourage, led by Pastor Angela Chigbu, took hold of Stockholm City, Gothenburg, and Umeå – the three major cities in the country. Armed with the messenger angel, the word of God, and adorned in impressive regalia of the Swedish flag, the brethren taught, and preached to everyone they made contact with.
Taking advantage of public address systems, the air was saturated with anointed songs of the LoveWorld Nation, which echoed through the city, thereby drawing great attention.
The day concluded in the various cities with over 2000 copies of Rhapsody of Realities distributed, several souls won to Christ, and a mighty awareness in the populace of the presence, and exceptionalism of Christ Embassy in the nation of Sweden.
Spread the good news of this great impact in the nation of Sweden through likes, comments and shares.

Please follow and like us: