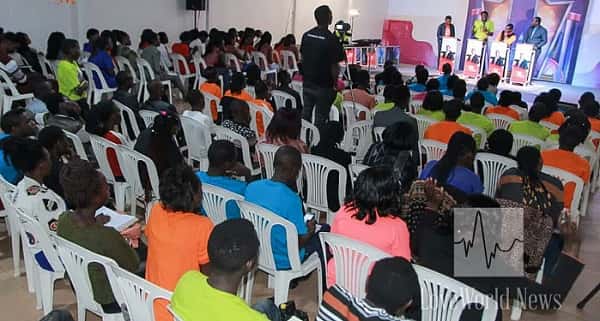 Campus leaders exposed to unique Training, Inspiration, and Empowerment at the four days conference.
The Training, Inspiration, and Empowerment Conference (T.I.E), organized by the LoveWorld Campus Ministry, for Campus fellowship leaders in East Africa, held from Thursday 11th to Sunday 14th July 2019, at CEDAT Auditorium, Makarere University, Uganda.
The divinely orchestrated, and riveting conference, commenced with a colorful opening session on Thursday, amidst palpable excitement expressed by the young leaders drawn from various tertiary institutions across Uganda, to attend the life-transforming, and status upgrading conference.
See Also: The Messenger-Angel Triumphs In NYSC Orientation Camp, Kaduna, Nigeria
The conference was entirely impactful, replete with a powerful insightful session with the esteemed Campus Ministry Director, Pastor Chike Ume who ministered to the leaders via live online stream as well as enlightening plenary sessions with other esteemed Zonal Secretaries from various zones across the Campus Ministry, who were physically present in Uganda for the conference. Zonal Secretaries present include: Pastor Henry Akasili; Zonal Secretary, BLW Zone H, Nigeria, Pastor Ugo Dibia; Zonal Secretary, BLW Zone E, Nigeria, Pastor Theophilus Owase; Zonal Secretary, BLW Zone A, Nigeria, and Pastor Oche Emmanuel; Zonal Secretary, BLW Zone D, Nigeria.
The conference also featured special talk show panels, workshops, and workout sessions, imparting attendees with priceless knowledge on broad array of subjects and topics.
In the first plenary session, esteemed Pastor Henry Akasili, taught on the topic; 'MAKING THE NECESSARY IMPACT AS A YOUNG MINISTER ON CAMPUS.' In his teaching, he pointed out 3 important factors that affect a man's life; Principles, Relationships, and  Actions.
See Also: Relive Blissful Moments in June at July Communion Service with Pastor…

Teaching on the topic; 'THE CELL; A MISSIONARY UNIT', esteemed Pastor Ugo Dibia, explained that the Cell is God's strategy for growth in the church, numerically, and spiritually. He emphasized that, the early church grew, and spread rapidly through the cell system, therefore, if we desire growth, and expansion we need to understand, and take advantage of the cell system today.
Esteemed Pastor Theophilus Owase, in a super session, expounded the vision of our great ministry (LoveWorld Inc.), to the delegates. Teaching on the topic; 'RUNNING WITH THE VISION,' he stated that a clear understanding of the vision, will energize you, increase your results, and guide you to be focused on what is expedient at all times.
The conference also witnessed an exclusive Q & A segment with the Esteemed Zonal Secretaries present, affording attendees the rare opportunity to ask and receive accurate answers to diverse questions bordering on relationships in Christ, increasing financial relevance, proper dressing, covering of hair etc., It was a glorious time of learning for the delegates at the conference as the young leaders were commended to the Word, which is able to build them up and dissolve every doubt or uncertainty in their hearts.
See Also: Destinies Reborn at CE Bayelsa Teens Fire Conference with Pastor Obi…
The epochal conference further climaxed with the appearance of a special guest minister. The highly esteemed Zonal Pastor Of Christ Embassy, East-West & Central Africa Zone 3; Pastor Louis Osademe. Exhorting the leaders on the 'LIFE AND MINISTRY OF DAVID', he gave inspiring illustrations from his life experiences, walk with the Holy Spirit, and the vision of our man of God, Reverend (Dr.) Chris Oyakhilome. He reminded the excited delegates, that they are not too young to take over nations! David was but a lad when God gave him a nation he said to the congregants. What a Spirit-ladened session it was for the young campus leaders!
Another high point of the conference came when the highly esteemed Campus Ministry Director (CMD); Pastor Chike Ume, in an online live stream, took the leaders at the T.I.E Conference Uganda on yet another levitating session, teaching on the topic; 'DISCIPLINE FOR EFFECTIVE LEADERSHIP.'
See Also: Rain Of Heavenly Blessings At Night Of Bliss Garrick
Discipline is so important for young leaders because, if you can get it right at this time, you have it made, the CMD, exhorted the attendees. Expatiating further, he remarked that discipline also entails subduing, controlling, and the mastery of raw, or basic instincts, drives, passions, and desires, through conscious training or practice to bring forth inner excellence.
A special Foundation School Graduation Ceremony, for members who had hitherto completed the requirements for graduation from the LoveWorld Foundation School, wrapped up the T.I.E Conference Uganda.
The T.I.E Conference Uganda recorded a superlative success, and it's impact will continue to resonate across East Africa, as attendees were thoroughly furnished, and equipped for a season of mighty harvest of souls, in their campuses all over Uganda, and beyond.

Please follow and like us: