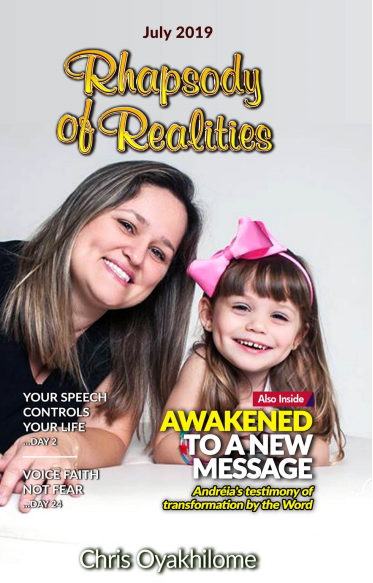 We're For Signs And Seasons
And God said, Let there be lights in the firmament of the heaven to divide the day from the night; and let them be for signs, and for seasons, and for days, and years (Genesis 1:14). How powerful the scripture above is! It's not just dealing literally with the sun and the moon and the stars.
Isaiah 8:18 further helps to explain it; it says, "Behold, I and the children whom the LORD hath given me are for signs and for wonders.
…" Then, in the New Testament, Hebrews 2:13-14 refers to the prophecy of Isaiah above, stating that we're for signs and wonders; signs and seasons. What does this mean? The words of Jesus in Luke 10:5 help make it clearer. He said, "And into whatsoever house ye enter, first say, Peace be to this house." This means you bring to that house a season of peace! Where there've been trouble, crises, and turmoil, when you show up, there'll be calmness. Hallelujah!
The sixth verse says, "And if the son of peace be there, your peace shall rest upon it…" (Luke 10:6). Note: He said, "Your peace shall rest upon them," because you're a bearer of peace, the peace of Jesus Christ. He said in John 14:27, "Peace I leave with you, my peace I give unto you…."
Peace is power over crises. So, everywhere you go, you calm the storm and effect changes. They may have been in distress before you came; the moment you show up, things change. There's joy! There's victory! There's prosperity! Hallelujah!
That's not all; you bring health as well; a season of health! Continuing further into verse 9 of Luke 10, Jesus said, "And heal the sick that are therein…." In that place where there's been sickness and pain, you bring health! Jesus didn't say, "Pray for the sick therein"; He said to heal them! He reiterated the same truth in Matthew 10:8. He said, "Heal the sick, cleanse the lepers, raise the dead, cast out devils…."
You're not ordinary. You're a bearer and dispenser of divine verities. Have the consciousness that everywhere you go, you carry seasons of peace, seasons of love, seasons of health, hope, and gladness; seasons of blessings and miracles! Hallelujah!
CONFESSION
As I preach the Gospel, the Spirit bears witness, both with signs and wonders, and with diverse miracles, and gifts of the Holy Ghost, according to His own will. Everywhere I go, I usher in seasons of blessings, restoring many, making them strong, firm and steadfast! Glory to God!
FURTHER STUDY:
Isaiah 52:7; Matthew 10:7-8; Mark 16:17-18
1 YEAR BIBLE READING PLAN: Acts 21:1-16 & Job 25-28
2 YEAR BIBLE READING PLAN: Luke 8:11-18 & Joshua 7
Please follow and like us: