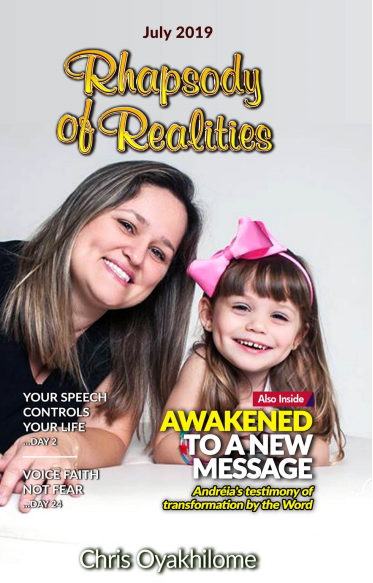 Grow Without Ageing
For which cause we faint not; but though our outward man perish, yet the inward man is renewed day by day (2 Corinthians 4:16). Eternal life is the life with agelessness. When you received eternal life, you passed from death to life; from time into timelessness; from age into agelessness. In Christ, we grow; we don't age.
It's important you catch this because the generation of the Church that catches this truth is the generation of the glory. The human body wasn't made to grow old and die. In Bible accounts, some people lived to be over nine hundred years, some eight hundred, and others seven hundred and so on. But the number of years that man lived on earth progressively reduced because of sin, according to the scriptures.
However, the Bible says that Jesus Christ took the punishment for our sins, and died to save us. If indeed this is true; if indeed, He laid down His life for us on account of our sins, it, therefore, means that the problem of sin has been dealt with. In that case, the effect of sin should no longer continue.
As a result, man should no longer be a victim of age. His years should no longer be limited to 70, 80, or 120, because being born again, you've been brought into His glory and should be living a glorified life. You're supposed to be a victor every day of your life. Nothing on earth should make you a victim; not even old age, because when you come into the zone of agelessness, you can grow without ageing.
Take Moses for example, the Bible says that at a hundred and twenty years of age, his eyes weren't dim; his physical stature wasn't abated: "And Moses was a hundred and twenty years old when he died: his eye was not dim, nor his natural force abated" (Deuteronomy 34:7). Even though he could see that he was clearly an old man, his physical stature was strong.
He wasn't the only one. At the age of eighty-five, Caleb said, "I am as strong today as I was when I was forty; therefore, give me this mountain" (Joshua 14:7-12). Hallelujah!
Grow, but don't age! Don't be like those who are only forty-two and they say, "You know I'm not so young anymore." Christ makes you forever alive, strong, and effective. You have eternal life; meaning you're in the ageless zone. Blessed be God!
PRAYER
Righteous Father, I thank you for giving me eternal life and catapulting me to the ageless zone, where I grow, make progress, and excel from glory to glory, in Jesus' Name. Amen.
FURTHER STUDY:
John 11:25-26; Romans 8:11
1 YEAR BIBLE READING PLAN: Acts 25:1-12 & Psalms 7-10
2 YEAR BIBLE READING PLAN: Luke 9:18-27 & Joshua 13
Please follow and like us: